Not much going on today, and I blew my blogging load yesterday, so I will see what I can come up with.  Start with some pics.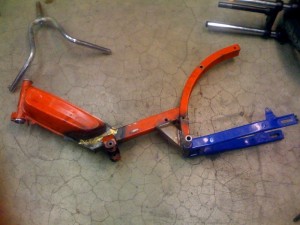 Nate finished up Jimmy's swingarm.
My cases came back from our machinist/motomatic racer Tony Simoni.  This picture probably means nothing to you.  Stay tuned to see what it means.
Hobbit lost some weight in the rear end.
Other things:
-Nate continued working on Jimmy's bike, so he could have more done and less left for Jimmy to  break.
-I went to  Capitol Dawg , they had misters outside.  I ate a  corn dog.  I'm mostly really excited about the misters.
-I scared away any potential customers by listening to stoner metal all day.
–Cool Nathan got mad at me for trying to be funny, and threatened a blog war.  Dont worry, I am mildly entertaining at best, and rafter will be back soon.  You are still the star of moped blog nation, and I am still your biggest fan.
Thats all, kind of a boring day.  Should be some good moped related stuff to show tmw I hope.