crazy race tech

see you in a couple weeks!
So a month or so back our dear friend Nathan moved. which is rad except less garage space. : ( so he brought a literal pile of mopeds to the shop. So i figure ill show you what it looks like peice by peice starting with the most rad peice…
pirate frame AAARRRRRRRGGGGGG!!!!!
more to come with the pile later. or not we'll see how i feel about it.
other shit this week
Alans mule got a makeover… kinda
do you see it ? ok ok ill give you a hint
if you dont get it now god help you
lots of stuff going on around the shop, i'll show you some of it!
nate figured out a smart way to put a groove into e50 cases for another snap ring to solve the ages old problem of e50 cranks walking left and right!


no picture of the tool he made, but after you cut the groove in, you just pull the snap ring off your old snap ring bearing (you're rebuilding your motor with new bearings anyway, right?) and it slides into the groove between the bearing and the seal!
we've rebuild a couple motors with this mod now, but none of them have been ran yet. nate just figured this out like last week. we can't see any reason why it won't work, though!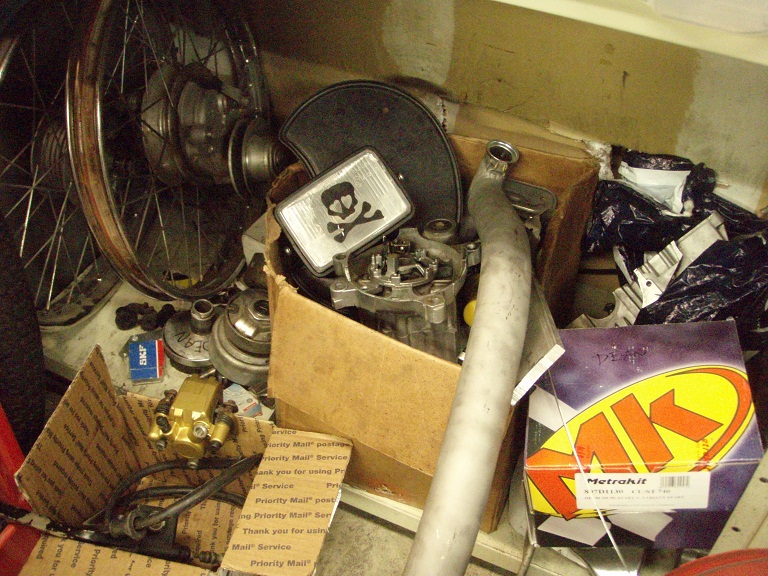 here's my cubby! a whole lot of crap in there. you can see a few parts of my 2010 polini cup bike, the vx4, in there, as well as leftovers from magnomos and various other projects i've had over the years.
rook's av7 top and bottom! nate did most of the port work, it will probably be one of the fastest av7's you've ever seen. no joke. i'll let travis post about his own bike though, these are just a couple pictures for now.

ok, there's an update! with pictures and links! exciting!
Ahhh, one more day of building and tuning before round 3 of polini cup.  Things are shaping up, but still a lot to do.  Another quick update before I pass out and start all over tmw.  Heres some (crappy) pics from the last two days.
Bye little guy.  You were so little and cute.
 I just think this looks funny.  Stretched out hobbit.  Maybe I will adapt it to look like this for the drag season.
Since the walls of my cases were so thin there wasnt enough material to get a good seal, so we just jb welded the entire case closed.  Oh well.  I have plans for a new motor build before round 4, so this is just kinda temporary.
Another thing that sucks about custom builds.  Nothing fits right anymore.  Couldnt find any threads that were close to the right size for this set up.  Had to take minarelli studs and thread them longer.  Real pain in the ass.
Motor is installed and the bike runs.  Had to adapt the old exhaust to the new cylinder.  No biggie.  Fired it up in the parking lot.  Seems good.  Kinda just let it warm up. The tuning will start tmw.  We'll see what this baby is made of.
Jimmy's chamber.
Worlds sexiest moped part.
Jimmy's stubby.
There's a couple real hints since the unveiling is just over 12 hours away.  My bike is running and ready for tuning.  Jimmy's bike just needs a pipe mounted up.  We tore down jimmy's bike for powder coat last night, so this is the last pics you will see of lego bike.  It will be in full on race colors next time you see it.
Sorry for the crappy pics.  If you would like better quality pics on the blog, I am taking donations for a new camera.  Feel free to email me for my paypal.  Thanks.
4 days left till polini cup round 3, and Team Motomatic is cutting it close getting their bikes ready for the races.  It was a long tough weekend that carried into today.  Probably gonna be a lot of 12 hour days till the races.  New team rider, Jimmy Nolan, came to the shop and worked hard all weekend, and tried his hardest not to break anything else.  He's more excited than a child on christmas day about his new bike, as he should be.  Nates really out doing himself on this one.  We'll give you some sneak peeks and hints this week as the race comes closer, and the bike will be unveiled Friday at midnight.  Try not to die of anxiety.  Onto some pics.
Hobbit got all disced out with a cr80 front wheel.  It went on pretty easy.  It got the professional race team paint job    , and I didn't swallow and brake fluid trying to syphon it through the brake line. 
The moment of truth came this morning when all the holes we put in my cases were filled in and smoothed out, and we finally went to press in my bearings and crank.  The first attempt was unsuccessful, crank binded up.  We had to pull apart my now very delicate cases and do some more grinding.  Attempt #2 was a success!  Giant derbi crank in hobbit cases.  Notice how thin the wall of the hobbit cases are.  This thing BARELY fits.  We are basically going to have to jb weld the cases shut once its all together to make sure the thin walls dont air leak.  crazy.
Little shit like this, is why motomatic bikes are awesome, and take tons of time to build.  Modified HPI plate for derbi crank, and 4 petal reed block adapter plate.  Nate wasn't satisfied with my mounting technique, so we are making this up.  You wouldnt believe the time it takes to make these plates.  I spend a lot of time at the dremel.  We all do.
Possibly the most exciting part of today, was my cylinder coming back from our favorite porting guru and motomatic racer Tony Simoni.  I swallowed my "I build my own motors" pride, and handed my 80 metra cylinder over to Tony to let him do his magic.  I did a bit of work, but then turned it over to the pro to finish it off, and hopefully make this bad boy 16 hp.  It came back AMAZING.  Seriously unbelieveable stuff.  Case inducted 80 metra.  This guy doesnt mess around.  This cylinder is beautiful.  8 hours of port work according to Tony.  He has some really crazy porting tools, and its amazing to see his work.  I couldnt be happier with the results.  A big thanks to Tony.  I owe ya one.
Onto Jimmy's top secret race machine.  Secret box's are all the rage theses days, so we're playing along.  Here are some sneek peaks.  Why the big sprocket Jimmy?
What are these silly pieces?  Where do they fit into this puzzle?  Stay tuned to find out.
Well there it is Romero.  Hope you're ready.  😉
Other happenings, a road gnome dropped off his bike.  Apparently he just graduated junior high and has some cash to spend on getting his moped back in running order.  He's stoked, and we cant wait to see him on thursday nights.
Some creature girls stopped by, but we were stuffing our faces.  No worries, the other squiddies treated them to a good time.
I got a peek into Nates brain, and it looked sorta like this.
Tonights updates were sponsored by Pentagram and Phil Collins.
Long busy day here at motomatic mopeds.  Lots of race developement going on between repairs, powder coat, and pipe buildin.  I'm tired, so I'm gonna try and make it quick.
I showed you the machine work on my cases yesterday, most of you got that an 80 metra is going on it, but to take advantage of that kit on the hobbit, you need a big old crank like the derbi.  left is puny hobbit crank, right is derbi.
This is the work we had to do to get the crank into the case.  My cases are like swiss cheese now.
Stock ports.
big boy ports.
Yep, its big and scary.
Jimmy's swingarm installed.
This build from here on out, is top secret.  Revolutionary stuff that will change french mopeds.  Stay tuned till right before or after the races to see what happens.  Be excited, but dont die.
It's way too hot, and I am too tired, so thats all you get today.  enjoy the pics.
Not much going on today, and I blew my blogging load yesterday, so I will see what I can come up with.  Start with some pics.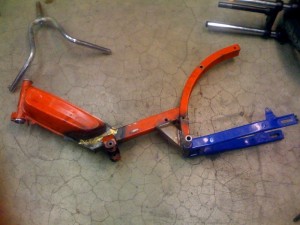 Nate finished up Jimmy's swingarm.
My cases came back from our machinist/motomatic racer Tony Simoni.  This picture probably means nothing to you.  Stay tuned to see what it means.
Hobbit lost some weight in the rear end.
Other things:
-Nate continued working on Jimmy's bike, so he could have more done and less left for Jimmy to  break.
-I went to  Capitol Dawg , they had misters outside.  I ate a  corn dog.  I'm mostly really excited about the misters.
-I scared away any potential customers by listening to stoner metal all day.
–Cool Nathan got mad at me for trying to be funny, and threatened a blog war.  Dont worry, I am mildly entertaining at best, and rafter will be back soon.  You are still the star of moped blog nation, and I am still your biggest fan.
Thats all, kind of a boring day.  Should be some good moped related stuff to show tmw I hope.
Rafters out of town, so yours truly, Tommy Freebird, will be taking over blogging duties for the week.
Nate hard at work on jimmy's Pug.  No more wobbles.
Seriously, another vespa?  4th in two weeks.  Hooray.
Lots o bikes to powder coat.  This is what rafter does most days.  I did some sandblasting today.  It sucks.  I give him props.
I made this beautiful piece of artwork for is pretty gold maxi we had for sale, and it sold instantly.  Although the bike is gonna the sign is still available.  Bids start at $15.00
Other random happenings today.
-I dropped rafter off at the airport so he could be a private dick for the week.
-I ate In n' Out.
-I watched Nate "man hands" Kiehn break a sweat trying to put the worlds most stubborn cheng shin on a bike.
-I listened to Miss New Booty on 10 while i was alone at the shop.
Thats all for today.  Hopefully I didnt fuck this up too much.  I haent blogged in a while.